Georgia Tech Football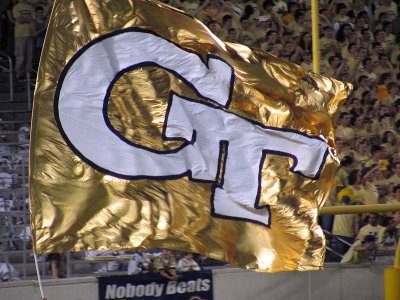 The Georgia Tech Yellow Jackets football team represents the Georgia Institute of Technology in collegiate level football . While the team is officially designated as the Yellow Jackets, it is also referred to as the Ramblin' Wreck. The Yellow Jackets are a member of the Atlantic Coast Conference (ACC). The Georgia Institute of Technology has fielded a football team since 1892. The Jackets play in Bobby Dodd Stadium at Historic Grant Field in Atlanta, Georgia, which has a capacity of 55,000.

2011 Schedule

9/01/11 vs. Western Carolina - W, 63-21
09/10/11 at Middle Tennessee State - W, 49-21
09/17/11 vs. Kansas - W, 66-24
09/24/11 vs. North Carolina - W, 35-28
10/01/11 at North Carolina State - W, 45-35
10/08/11 vs. Maryland - W, 21-16
10/15/11 at Virginia - L, 24-21
10/22/11 at Miami (FL) - TBA
10/29/11 vs. Clemson - TBA
11/10/11 vs. Virginia Tech - 8:00 p.m. ET
11/19/11 at Duke - TBA
11/26/11 vs. Georgia - TBA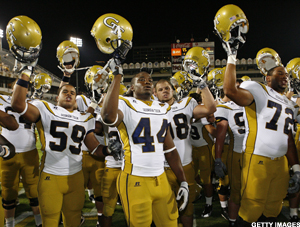 Georgia Tech has a rich history including:
3 National Titles
16 Conference Championships
A winning all-time record
A winning bowl game record
Georgia Tech's Offense
Although Georgia Tech is not currently thought of as a major power house
it still has one of the hardest offenses to stop, the option offense.
Back to example sites